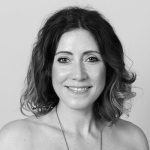 Ellie
Director
Ellie has been hairdressing for 22years and during that time has competed in many competitions which she loves doing. Ellie was on the L'Oréal ID team for 2 and a half years in which she was involved in many shows and did backstage hair for the L'oreal Colour Trophy 60th anniversary. She managed to get to the finals in the colour trophy last year. Ellie is passionate about all aspects of hairdressing and has a number of clients with curly/thick hair as hers is naturally very curly and wild!
Ellie was trained by Trevor Sorbie on his very 1st 'My new hair' wig cutting course, which she very much enjoyed and sometimes cuts peoples wigs who are going through cancer treatment. She has been trained in fashion, photography and media make up, and has recently signed up to volunteer for a charity called 'Look Good, Feel Better' and will be doing makeovers for women going through cancer, and she feels it's important to her to use her skills as and when she can to help those going through a hard time.
Ellie has two daughters aged 7&10, a husband and a puppy! Ellie LOVES gin!
The Team